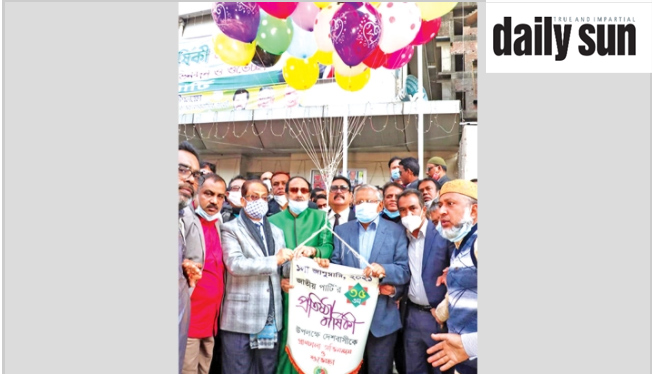 Jatiya Party (JP) and its front and associate organisations celebrated the party's 35th founding anniversary on Friday, arranging various programmes across the country, including the capital.
The celebration programme began at the party's central office in Kakrail in the morning while the party Chairman GM Quader, Secretary General Ziauddin Ahmed Bablu and other senior leaders were present.Senior leaders led by GM Quader, also the deputy leader of the opposition in parliament, hoisted national and party flags on the central office premises at 9:00am. At that time, they placed a wreath at the portrait of the party's founding Chairman Hussain Muhammad Ershad.
They also inaugurated the founding anniversary programmes by releasing colourful balloons and freeing pigeons.  A discussion was held at the party chairman's Banani office on the occasion at 3:00pm. GM Quader presided over the meeting as top leaders, Ziauddin Ahmed Bablu, spoke at the programme among others.
Besides, a pleasant cultural program was arranged at the Banani office in the evening. Convener of Jatiya Sanskritik Party Sharifa Quader, also the wife of GM Kader, supervised the function.
Besides, Hussain Muhammad Ershad Trust and JP leaders also arranged separate programmes at different areas to mark the day. The party's different units and front and associate organisations also celebrated the founding anniversary with local initiatives at different areas of the country.
Hussain Muhammad Ershad Trust cut a large cake in President Park, Ershad's Baridhara residence. Discussion meeting was also organised at the same place. Besides, the organisation distributed food items among the poor in memory of Ershad.
The Jatiya Party was formed on January 1, 1986 by the then military dictator HM Ershad.HM Ershad, who was ousted in 1990 after nine years of autocratic rule, died on July 14, 2019 at the age of 89 while undergoing treatment at the Combined Military Hospital (CMH) in Dhaka.
He formed the Jatiya Party in 1986 and was elected president for a term of five years the same year through the third parliamentary election, triggering huge protests by other political parties.
Amid a fierce mass uprising by the opposition parties, he was finally forced to step down on December 6, 1990.
In its council session in December 28 last year, Raushan Ershad, widow of Jatiya Party founder HM Ershad, was elected as the chief patron of the party during its national council for the next three years.
Besides, GM Quader was elected as chairman of the party unopposed while Moshiur Rahman Ranga as secretary general. Later, the party removed Ranga from the secretary general and appointed Ziauddin Ahmed Bablu as new secretary general on July 26 this year.